Placing an order via the CompuCom website
How to order a Lenovo laptop from CompuCom
Due to high demand and delays, it will take 12-16 weeks to receive your laptop. Order early!
 Step 1: Visit CompuCom SIGN UP page. Please note: you must have an @OntarioTechU.Net email address before you start.
Step 2: Complete the registration form using your @OntarioTechU.Net as the email address and Ontario Tech as the Company.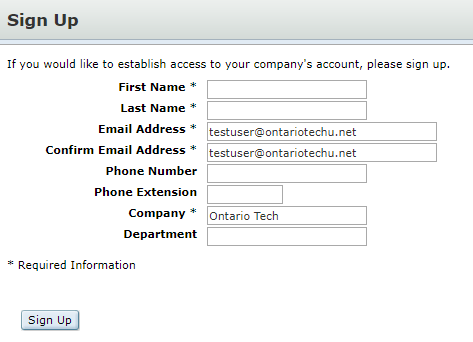 Step 3: Check your @OntarioTechU.Net email for an email from websupport@compucom.com. This email will include your User ID and password.


Step 4: Visit CompuCom SIGN IN page and sign in with your User ID and password.


Step 5: Select the laptop model you wish to purchase.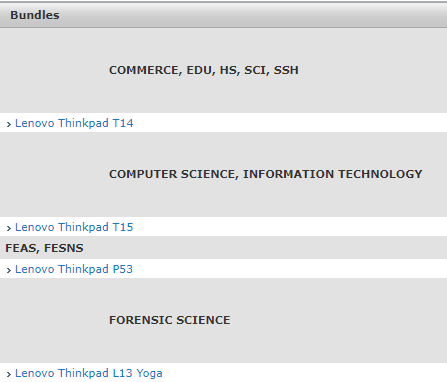 Step 6: Select one of the two available configurations (256GB SSD or 512GB SSD).


Step 7: Select the Select All checkmark and then select Add to Cart.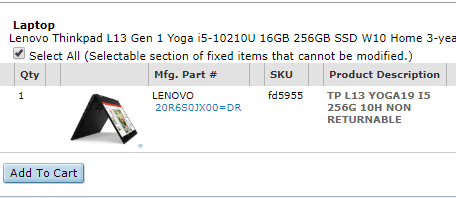 Step 8: Select Checkout.


Step 9: Select Edit under Shipping Address and fill in your home address.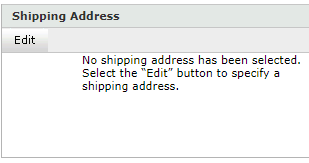 Step 10: Select Edit under Payment Details and fill in your credit card info. Note: Payment Details summary will still display as PO Number: NA even after you fill in your credit card info.

Step 11: Select Edit under Shipping Method and select your desired shipping method.


Step 12: Leave the Billing Address as the university and select Continue to finish placing your order.